The People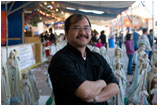 FATHER VIEN NGUYEN is a charismatic and eloquent speaker. He is the unexpected mix of a traditional, steady Catholic priest and a passionate, progressive social activist. Sometimes he speaks with an air of arrogance, sometimes with a sense of mischief, but we always know that Father Vien loves the Versailles community with all his heart and leads it with a sense of duty and incredible passion. Father Vien is our main storyteller.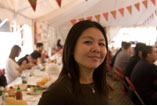 Although 30-year-old MIMI NGUYEN is not from Versailles, she has more in common with the elders in the community than other people her age. Mimi's family paid for her escape from Vietnam by boat when she already a teenager in the early 90's, much later than most Vietnamese refugees. Like the elders 20 years prior, she spent time at a refugee camp. She relates to the Versailles elders and holds them dear in her heart, so much so that she uproots herself from Northern California to take a job as an aide to City Councilwoman Cynthia Willard-Lewis so she can fight for the community. Mimi is the emotional center of the film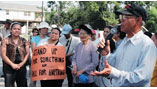 NGO MINH KHANG is one of the most respected elders in the community. He is over 70 years old, but we can see the dogged fighter within his frail frame. Ong Khang treasures what he and his family and friends at Versailles have built, and will do anything to defend it. Ong Khang provides us with the community elders' perspective.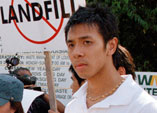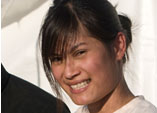 Born and raised in Versailles, MINH NGUYEN and MARY TRAN were two 20-somethings starting their careers and considering leaving the community. After Katrina, the charming and likeable Minh rallied the youth of Versailles to step up, working hand-in-hand with the elders to fight for the community. The bubbly Mary, at times young and giggly like a teenager, has answered the call and taken the helm at the community development corporation in charge of the future of Versailles. They speak for the youth of Versailles.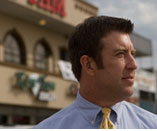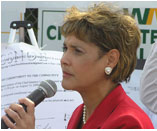 Attorney JOEL WALTZER, the only non-Vietnamese lawyer with an office in Versailles, has represented community members for over 15 years. Versailles is a part of City Councilwoman CYNTHIA WILLARD-LEWIS' district, and she has been an advocate of the community for as long as anyone remembers. Her New Orleans East district happens to also include the majority of the Ninth Ward, the area in New Orleans most devastated by the flood. These two outside supporters, both of who have suffered every bit as much from the storm and the flood as the Versailles community members, are instrumental allies in the fight against the Chef Menteur Landfill. They also provide the outsiders' perspective on the Versailles story.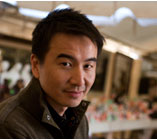 S. Leo Chiang – Producer/Director Born and raised in Taiwan, Leo immigrated to the US as a teenager and received a MFA in film production from University of Southern California before beginning his filmmaking career. In 1998, the Directors Guild of America commissioned Leo, then a film student, to direct and edit Directing: How to Get There, for which he documented early careers of several well-known directors including Robert Wise, Norman Jewison, and Steven Spielberg. His other films include To You Sweetheart, Aloha, about the 94-year-old 'ukulele master Bill Tapia (PBS broadcast '06, Audience Award at the Los Angeles Asian Pacific Film Festival '05), One + One, a documentary about mixed HIV-status couples (CINE Golden Eagle Award '02, Cable Positive Award '01), and Safe Journey, a short fiction film. He recently completed A Village Called Versailles, a documentary about the rebuilding and transformation of the Vietnamese American community in post-Katrina New Orleans. A Village Called Versailles will have its national PBS broadcast on the Independent Lens series in May of 2010. Leo also collaborates with other documentarians as an editor (True-Hearted Vixen, POV '01; Recalling Orange County, PBS/VOCES '06) and as a cameraman (It's STILL Elementary, '09; Ask Not, Independent Lens '09). Leo is an active member of New Day Films, the social-issue documentary distribution co-operative.
Brittney Shepherd – Associate Producer BRITTNEY SHEPHERD loves the idea of media as a means of connection. With a B.A. in Ethnic Studies from the University of California, Berkeley, Brittney was a founding member of the student run production team MothaBase Productions whose short film entitled Hurricane Katrina: Ya'll Know Where the Vietnamese Were? is used as a discussion tool for community groups, policy makers, and educators around the country concerning the issues of language access and disaster preparedness for immigrant communities. She has gone on help produce many independent documentaries including Ask Not, A Village Called Versailles, and Straightlaced.
Eva Moss – Associate Producer EVA MOSS has been involved in documentary filmmaking since graduating from Smith College in 2003. She has worked as both an editor and producer on many films whose topics range from alleviating water shortages in Kenya and Mali, Aboriginal artists and the intersection of storytelling and painting, the transition of a transsexual woman as seen through the eyes of her 3 young nieces (No Dumb Questions, Melissa Regan), a family working to understand their child's learning disabilities, a sequel to The Celluloid Closet (Here's Looking At You Boy, Michael Ehrenzweig), a gay couple's experience trying to conceive a child through insemination, Don't Ask Don't Tell and those working to overturn it (Ask Not, Johnny Symons), a 90 year old successful actress who started her career at 70, and the first documentary made by gay filmmakers depicting gay people (Word Is Out, Veronica Selver, Janet Cole). She uses filmmaking as a means to promote social change and introspection and works to facilitate the telling of others' stories, giving voice to those without a voice and sharing with the world that which is rarely seen.
Loan Dao – Associate Producer LOAN DAO is a Ph.D. candidate of the Department of Ethnic Studies at the University of California, Berkeley. Her interest and focus on the historical impact of a new generation of Southeast Asian American leaders stems from her experiences as the Director of Huong Viet Community Center and as a national leader in the fight against Cambodian deportations. She produced and wrote We Will Not Be Moved, and served as an outreach and promotional events coordinator for Sentenced Home, two films that document the Cambodian deportation process. She is the co-editor of an anthology on the impact of Hurricane Katrina on Vietnamese Americans throughout the Gulf Coast (forthcoming), and currently teaches at Stanford University, New College of California, and Laney College.
Rebecca Snedeker – Archival Researcher REBECCA SNEDEKER is an award-winning independent filmmaker based in New Orleans. By Invitation Only, her first feature-length documentary, premiered at the Full Frame Documentary Film Festival and was broadcast on PBS stations nationwide. The film recently won Best Documentary at the New Orleans International Human Rights Film Festival and has been presented at numerous festivals, conferences, and campuses. Snedeker also Associate Producer Julie Gustafson's Desire and Dawn Logsdon and Lolis Elie's Faubourg Treme. At home in post-Katrina New Orleans, she is producing a new film in which she asks diverse people about their dreams for the future of the city. Snedeker received a B.A. from Wesleyan University and is a Visiting Scholar at Tulane University's Newcomb College Center for Research on Women.
Kristy Guevara-Flanagan – Editor KRISTY GUEVARA-FLANAGAN picked up her first camera in middle school and hasn't put it down since. Her short films include, El Corrido de Cecelia Rose, chronicling the violent death of a Richmond teen. The film won the Golden Spire at the San Francisco International Film Festival, was an official selection of the Sundance Film Festival, and was subsequently broadcast on the Sundance Channel. Kristy holds an MFA in Cinema and, in addition to directing films, is an editor and film instructor.
Joel Goodman – Composer JOEL GOODMAN, a native New Yorker, began his musical career at the famed High School of Music and Art. Having spent many years as a studio musician/performer, and working with legendary musicians (including Cab Calloway and Ralph Towner), Joel transitioned into focusing his musical acumen on scoring. He recently scored Canvas, starring Oscar winning actress Marcia Gay Harden & Joe Pantoliano, Constantine's Sword, Hear & Now (HBO), Walt Whitman (PBS – American Experience), the multi award winning film The Cats of Mirikitani, Sister Rose's Passion ('05 Academy Award Nomination), The Collector of Bedford Street ('04 Academy Award Nomination), and Children Underground ('02 Academy Award Nomination).