A VILLAGE CALLED VERSAILLES

caps off a great October by winning our second award–an AUDIENCE AWARD at the New Orleans Film Festival! Thanks to all of you who came out and supported us at all of our various festivals stops.
November kicks off with Versailles' most famous resident making big news. Rep. Joseph Cao (R-New Orleans), the first ever Vietnamese American elected to the US Congress who happens to come from Versailles, stirred up quite the controversy by being the only Republican in the House to vote for the Health Care Reform bill. You can find more news items about Rep. Cao by visiting our Facebook page.
We screen next in Austin, Boston (2 screenings), and Philly again:
AUSTIN, TX:
BOSTON, MA (Screening #1):
WHAT:

UMass Boston Screening sponsored by Asian Am Studies Program

WHEN:

Fri 11/20 @ 1 – 3:15pm

WHERE:

Snowden Auditorium • Wheatley Bldg., 1st Flr, Rm 088, UMass Boston

TICKETS:

No admission fee. Open to public.

The students from UMB Asian American Studies program provided us with some of the most compelling video footage in the film during their two visits in Nov '05 and Feb '06 to the Versailles community. Now we are bringing the film back to UMB. Director Leo Chiang in attendance.
BOSTON, MA (Screening #2):
WHAT:

Boston Community Screening in Fields Corner

WHEN:

Sun 11/22 @ 11:30 am

WHERE:

Vietnamese American Community Center • 42 Charles St., Boston, MA 02122

TICKETS:

No admission fee. Open to public.

Free screening at the heart of Boston's Vietnamese American community in Fields Corner. The film will be screened with Vietnamese subtitles. Director S. Leo Chiang in attendance.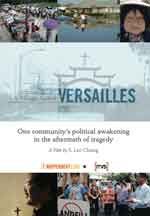 We will also be screening at the Society of Visual Anthropology Film, Video, and Multimedia Festival on Sat 12/5 @ 1:30p as a part of the American Anthropological Association annual meeting in Philadelphia, PA. Please come see it if you are attending the conference.
The holiday season is right around the corner, and the A VILLAGE CALLED VERSAILLES DVD makes a great gift!! Visit our website and purchase a copy today. The proceeds from the sales of DVDs go towards our community engagement campaign and enable us to continue showing the film around the country.
I want to end this update by sharing another great story of Vietnamese Americans making a difference in their community. Siblings Viet & Tram Nguyen, both principals of public elementary schools in Oakland, CA, have worked tirelessly to turn their schools around. Here is the feature story about them on the local ABC affiliate. Check it out.